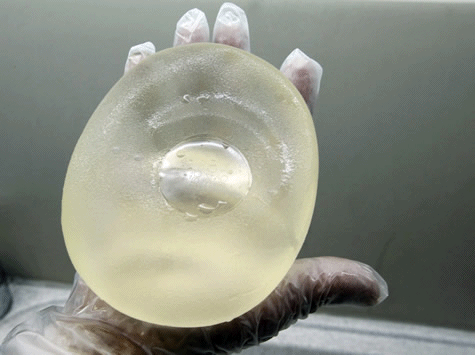 Thousands more women may be at risk of sub-standard silicone breast implants after it was revealed that French company Poly Implant Prothese (PIP) were selling implants under a different name.
It is estimated that up to 5,000 British women have received Rofil M-implants, described as being PIP implants rebranded by a Dutch company.
A nurse displays a defective silicone gel breast implant manufactured by French company Poly Implant Prothese after it was removed from a patient and cleaned in Nice
Plastic surgeons have warned that it is crucial for women to know that is not just PIP labelled implants that are suspicious.
The warning comes as UK health secretary Andrew Lansley said he would consider setting up a national register for breast implants and called on private clinics to show responsibility for any PIP implants that have been found to be defective.
However, the British government still refuses to advise routine removal of the implants.
The threat was previously believed to be limited to about 45,000 British women who received PIP-branded products, which have been exposed as manufactured using industrial-grade silicone and containing fuel additives.
Rofil M-implants have now also come under scrutiny.
While it is understood that Rofil M-implants were not sold in UK clinics, the British Association of Aesthetic Plastic Surgeons (BAAPS) said it believes that many British women would have had them implanted when they travelled to clinics in eastern and central Europe for lower-cost breast enlargement procedures. Each year up to 20,000 British women travel abroad for plastic surgery.
Jo Tooley, a recruitment consultant from Basildon, feared she had breast cancer after an M-implant split and leaked, resulting in excruciating pain and a lump the size of a golf ball.
"It is crucial women know about these implants and know that if they have a Rofil M-implant, it means the same as having a PIP implant," Tooley told the Daily Mail.
Rofil is believed to have had a long-standing agreement to buy implants from PIP. The implants were then rebranded as M-implants while the contents remained the same.
The scandal currently affects 300,000-400,000 women across 65 countries, with most of them located in Latin America and Europe.
Figures suggest that there is a seven percent rupture rate for implants in Britain. BAAPS has advised that implants not fit for purpose should be removed from women's bodies, regardless of anticipated rupture rates.
It was recently unveiled that at least 50 British clinics have reported cases of PIP implants that have burst, perished or otherwise broken up to the General Medical Council.
Lansley has called for a government review on the issue so that "definitive advice" can be given. An expert panel of surgeons, officials and statisticians have met with him and an announcement of their recommendations is expected to be delivered by the end of the week.